Val di Fassa's debut in the Enduro World Series is triumphant
Richie Rude from the United States and Isabeau Courdurier from France take the win at MET EWS Val di Fassa over trails unanimously regarded as some of the best in the entire series.
Just a few runs in, at Open Practice, and it was clear that all riders were having a blast at the trails of this Trentino's venue, host to an international event of MTB enduro for the first time ever. Positive comments were piling up after each run, while racers – more than 400, from 18 different countries – were flooding their social media profiles with pictures of the astonishing Dolomites, real star of the day.
MET EWS Val di Fassa has been the first race of the season to take place in the mountains and the fiftieth competition in the history of the Enduro World Series that – in actual fact – began in Italy, more precisely in Punta Ala, in 2013. Since then the level of the competition has skyrocketed, together with the expectations regarding the organizing venue. Today, Val di Fassa has not only shown to be up to the task: it has earned a place of honour amongst the top bike destinations.
"Hosting an Enduro World Series in our region has been a unique emotion and the huge amount of compliments we received – from everyone – gives us the greatest sense of achievement. The journey that brought us here, today, has been long. But we made it – thanks to the support and cooperation amongst all Valley's entities – and to all effects this means a dream come true for us" William Basilico, person in charge at Fassabike and race director.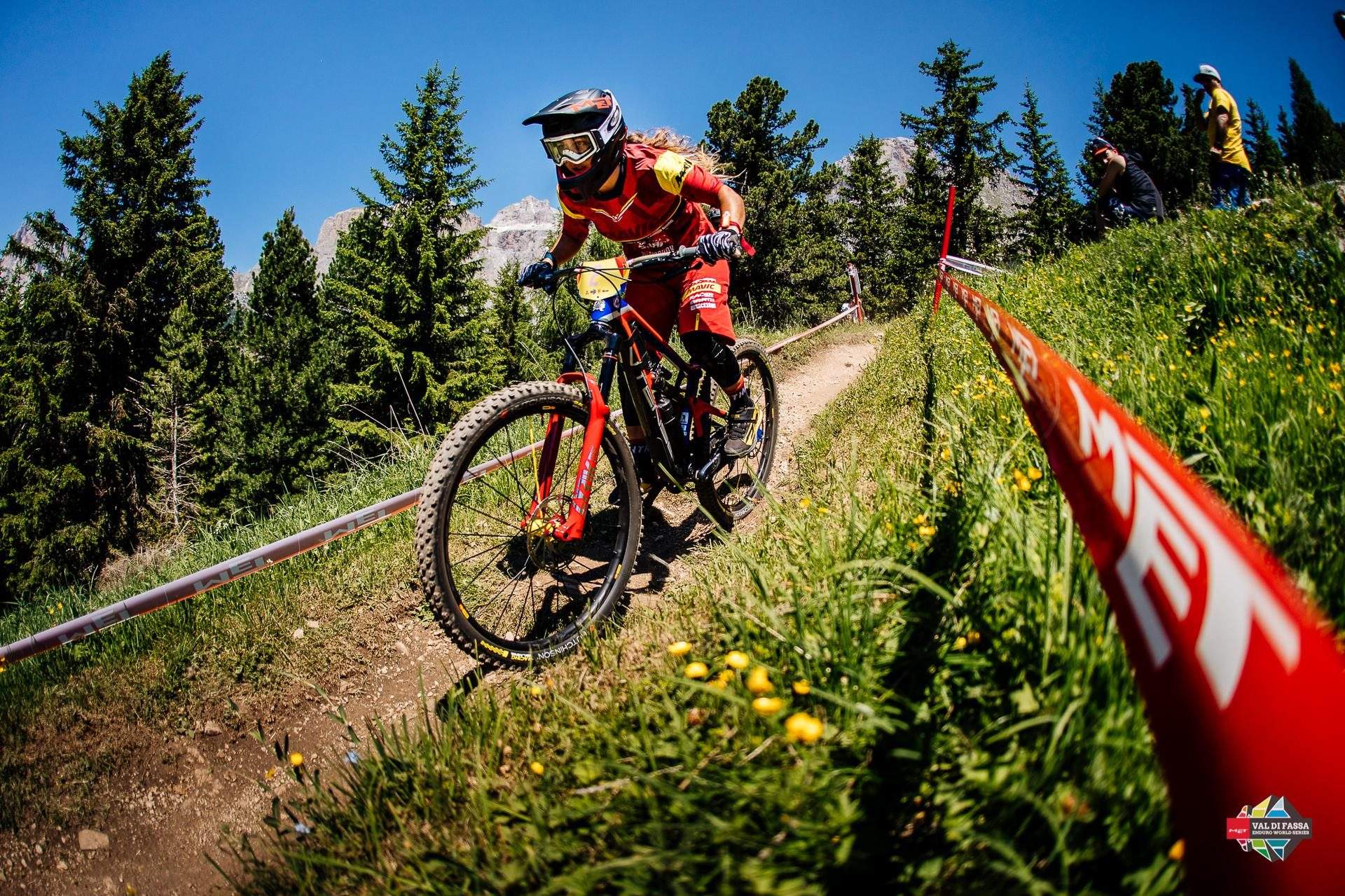 Isabeau Courdurier, first in Women's field, in action on Stage 1 Voltron
Photo: Nicola Damonte / Val di Fassa
Richie Rude (Yeti / Fox Shox Factory Team) takes the top step on the Men's podium; back to racing after a several-month-long enforced break, he shows his dominance over Val di Fassa's trails winning 4 of the 5 Special Stages. Downhill legend, 5-time World champion from Australia, Sam Hill (Chain Reaction Cycles Mavic) takes second place, followed by Frenchman Florian Nicolai (Canyon Factory Racing), current Series leader, a few seconds behind.
In the Women's field, France's Isabeau Courdurier (Intense Mavic Collective) wins to claim her fourth victory out of 4 Rounds. She is followed by Andreane Lanthier Nadeau (Rocky Mountain / Race Face Enduro Team) from Canada, in second. Israel's Noga Korem (GT Factory racing) is third.
As for the Italian riders, Martino Fruet (Team Lapierre Trentino Alè), gets a remarkable result, winning the Master Men's field. This is the second EWS win for him.
A pity Marcello Pesenti (Marchisio Bici) – who had managed to stay within the top ten for the whole race – crashed on one of the first corners of the last Special Stage: it cost him dear, as he fell backward to 40th place. He kept the top spot amongst the Italian riders though.
Thanks to five Special Stages and a complete, totally enjoyable alpine race course, Val di Fassa has been able to showcase its very own beauty to the whole bike community – with the help of the uplifts, too, offering privileged views over the Dolomites. Racers moved from Conca del Belvedere – against a backdrop that ranges from Catinaccio to the Sella Group – throughout Sassolungo, Ciasates and Ciampac, to finally round all off in Special Stage 5, the iconic Tutti Frutti. With a 6.55 km long track, 1000 m of vertical drop and 13 minutes of spectacle and pure adrenaline, the Stage took the riders from the Col Rodella ridge down to the Valley, along Antermont river, straight into town. That is the same river that brought riders some relief from the heat of the last few days, especially after their Open Practice runs. An unusual entertainment for Canazei.
"For us this has been the first time in Val di Fassa, and it has been one of the best events we have put together. It has been a great weekend, and the celebration of our fiftieth event. Riders' feedback about race course and community's hospitality has been simply fantastic. We can't wait to be back". Chris Ball, managing director.
Met EWS Val di Fassa has been the halfway event of EWS, in a season that had in store 8 Rounds around the world (New Zealand, Tasmania, Portugal, Italy, France, Canada, California and Switzerland). The emotions experienced by all of us in Canazei and Val di Fassa will remain indelible on everyone, together with the pictures of this unique landscape.
All the MET EWS Val di Fassa action in one minute